Transform the way you work and explore a fresh perspective
Hey there!
Do you find yourself stuck in a whirlwind of brilliant ideas and endless to-do lists?  Are you ready to shift your mindset, bid farewell to imposter syndrome and shiny object distractions, reevaluate your thinking patterns, take action, and embrace calculated risks?  Perhaps you're seeking growth for your business but aren't quite sure about your next steps, or maybe you're grappling with confusion about where to direct your focus.
When you team up with me, you'll find clarity and a fresh perspective.  Together, we'll sift through the nitty-gritty and make practical choices that propel your business forward.  Think of it as a problem-solving adventure, with me right there as your trusty guide.  I'll also help you pinpoint, understand, and achieve your goals.  Whether they relate to team management, business leadership, content creation, or simply getting your daily schedule in order.  I'm here to offer a helping hand and show you new approaches to getting things done.
Together, we're going to lay down new foundations, opening doors to a world of possibilities that will move your world forward.
"Louisa always looks at your business as a part of your whole life, combining personal and professional. I find those discussions provide a valuable perspective.  Louisa combines optimism, resilience and strategy to great effect. Those values are present throughout the community and give it strength."

– Lisa de Caux, Editor and Proofreader
1. Don't know where to start?
Let's chat! Book a free 20-minute call with me, and we can have a friendly chat about where you're at right now and what you're aiming to achieve.  This is our chance to see if we're a good fit and for you to tell me more about yourself and your business.  From there, we can explore the best options for you.
I'll let you in on a little secret – I'm a people person, and I'm saying it loud and clear because I know it's true!  That confidence comes from personal experience and the feedback I've collected over my career journey.
Think of me as your trusty sounding board.  Your wise advice buddy.  Your accountability partner.  Or simply someone with a wealth of business wisdom and is itching to lend a hand.
Let's uncover what clicks for you and what doesn't, all while giving your business the boost it needs.
Ready for a sneak peek of what it's like to work with me?  Dive into my free mini-series! It's a 10-day adventure filled with 5 tasks designed to bring you clarity, direction, and a healthy dose of accountability.
Price:  £0.00
InclUSion is our online hangout, a peer-to-peer community that's all about embracing your true self and unleashing your potential. Think of it as a mini-mastermind, where amazing things happen.
Price:  £42.00 per month
This one-hour session is entirely yours to use as you see fit. Sometimes, all you need is a one-off conversation to gain fresh perspectives on your current situation and spur you into action.
Price:  from £150.00 per hour
Turning Thoughts & Ideas Into Action
Stop getting in your own way.  It's time to conquer your goals.
This is a 3-month programme with an additional 3 months of support at the end of the programme via InclUSion for further accountability and sounding board access.
This programme is designed to empower you.  With personalised one-to-one guidance, I will help you craft a clear roadmap for success, embrace big-picture thinking and infuse excitement into your journey.
I believe that strategy doesn't have to be complicated or intimidating.  It can be an enjoyable process that empowers you to reach your goals and dreams.
With a perfect blend of structure and flexibility, we'll work together to create a clear roadmap for your success, ensuring you stay accountable, focused, and enthusiastic about what's next.
Join me in this adventure, and let's turn your ideas into reality!
Price:  £ BETA offer
This programme spans 12 sessions over 22 weeks, primarily focusing on LinkedIn but also covering other digital marketing platforms like Instagram, your website, and email marketing.
Here is a breakdown of what the sessions cover:
Week 1:  Understanding YOU
Week 2:  Defining your WHY
Week 3:  Identifying your MARKET
Week 4:  Reviewing your PROFILE
Week 5:  Generating CONTENT
Week 6:  Tackling the WOBBLES
Week 7:  Building an AUDIENCE
Week 8:  Content INSIGHTS
Week 10:  ACCOUNTABILITY
Week 14:  Content GENERATOR
Week 18:  NO HIDING
Week 22:  FINAL SESSION  
Price:  £1800.00
"I've known Louisa for a few years now and I can honestly say that her breadth of knowledge and experience is always a constant source of surprise to me – in a good way!   She's dynamic and always highly motivated.  She demonstrates a genuine desire to know and understand the person she's speaking to, and by getting to know you and how you tick, she can help you be the best version of yourself so your business thrives.  She never deviates from that, and there's nothing fake or disingenuous about her approach." 

Gillian Jones – Copywriter
3. Craft your tailored package
I've got you covered for all your business needs and more!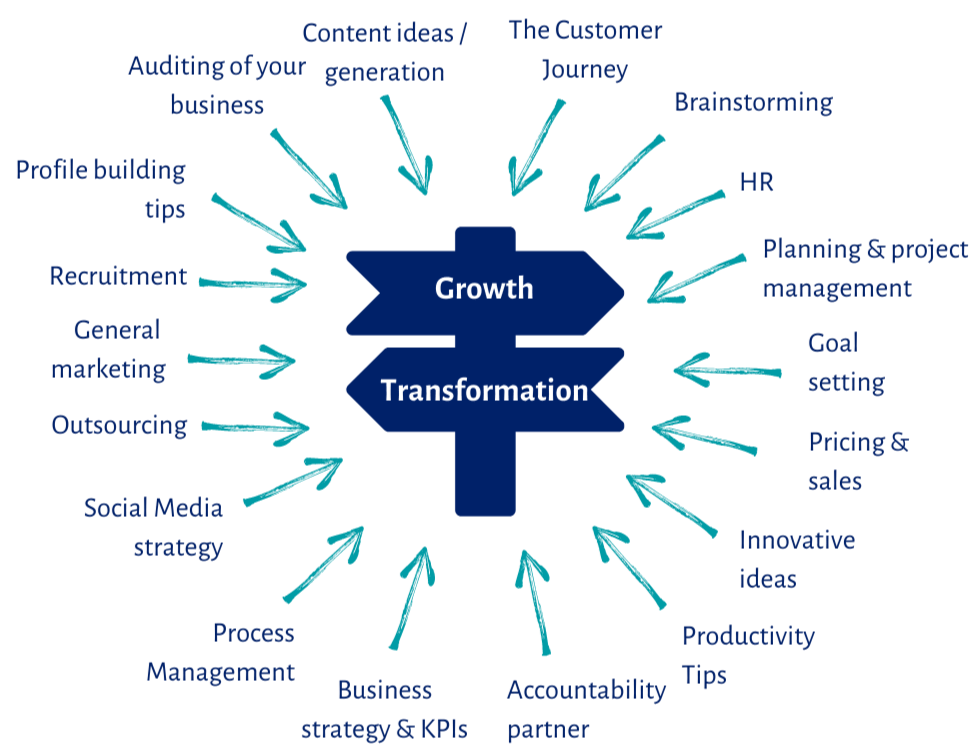 Business Consultant Optoins
Being a business owner myself, I get the challenges you're facing.  Whether you're just starting out or have years of experience under your belt, I understand that your struggles and budget will vary depending on your journey.
Maybe you want to pick my brain or need someone to hold you accountable for your decisions.  Perhaps you're in need of practical assistance and guidance but don't quite know where to start.  Or you find yourself constantly firefighting instead of making progress.  It's high time we considered the bigger picture and adopted a strategic approach.  I can help you do just that.
Designing a programme to meet your needs
Sometimes, it's tricky to figure out exactly what you need, especially if you're flying solo or running an agency without prior management or leadership experience.  After an initial chat, I'll create a programme tailored to your specific needs.
This option is perfect for businesses ready to invest in consultancy that kickstarts their momentum for growth.  Designed for those who are wholeheartedly committed to refreshing their approach and achieving results, you can reach out to me during business hours.  I'll delve deep into your business, figure out what works and what doesn't, and provide custom support to help you and your business thrive.
Still don't know what you need?
I get it; it can be a bit overwhelming.  But here's the deal: I can create a personalised mentoring support package that caters to your unique needs.  You'll have the assurance of knowing I'm here to support you, enabling you to thrive.
Maybe you need help managing, motivating, and getting the best out of your team.  Guess what?  I can help with that too.  If you're still unsure about which option is best for you right now, go ahead and book a FREE 20-minute call.  Together, we'll design a package that fits you like a glove.
"She's good at business strategy, is smart and insightful and works in an open and honest way.  She's also extremely helpful to others and gets on with her job with plenty of good humour.  I also appreciate that Louisa speaks her mind when the time's right."

John Espirian – Espresso+ Community Leader